A DIY portable infrared spotlight for security and surveillance
|
A DIY portable infrared spotlight for security and surveillance
When using an ifrared (IR) camera, it's useful to have a portable IR spotlight handy. These lights aren't easy to obtain but it is relatively easy to modify an existing visible light LED spotlight and convert it.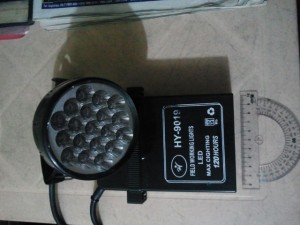 I recently bought a few portable LED lights like the above. I converted one to IR by replacing the visible light LEDs with IR LEDs.
You have to desolder the regular visible light LEDs and remove them, then replace them with IR LEDs. This particular light uses 19 pcs of 5 mm visible light LEDs. It's easy to buy 5 mm IR LEDs but you may have problems if the light you buy have different size LEDs. The entire procedure took less than an hour.
Testing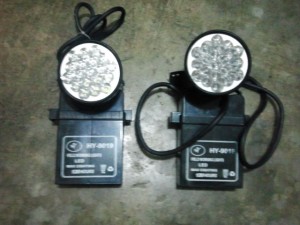 The light on the left is a standard unmodified light and the one on the right is the one we modified. They look almost identical except the IR LEDs I bought have a flat surface while the original LEDs have a curved surface.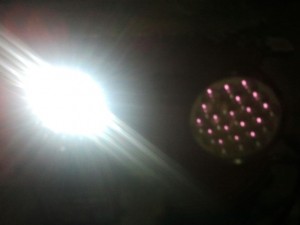 The picture above is taken with the two lights on. This picture was taken using a regular phone cam. The phone cam can still see part of the IR LED lights when looking directly at the LEDs. This is a useful test when trying to see if your lights are on or off.
This IR light tinge is totally undetectable by human eyes, which is convenient for surveillance purposes. Make sure you get these types of IR LEDs because most of the time the ones used in common CCTV security cameras have a red tinge which is visible to the human eye.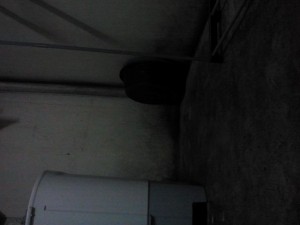 The above is our test area. This picture is taken using a regular phone cam with the room light on. Now we turn off the room light and use the visible spotlight and the IR spotlight and see the results.
The above two pictures were taken with the lights off / in total darkness. The regular LED spotlight was used. The left one is taken using a regular phone cam and the right one using an IR camera.
The pictures above were taken with the lights off / in total darkness, this time with the IR light on. The left one was taken using a regular phone cam. So as we can expect there really is nothing to be seen. And the right pic was taken with the IR camera.
In conclusion, the IR spotlight is a great convenient accessory that's useful when using IR cameras.